Speak To Me O Wise Printer...
Sometimes when me and Momma am on the computer, the printer makes talking sounds. It is so fascinating!! Momma says I am so intent on listening to what it has to say! But today I a'cided to see what goes on in there... do you know there's a little thing that goes back and forth like a mousie in there!? For real! I tried to reach at it but it kept hiding from me everytime I poked my tootsies in there.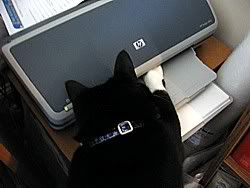 But see? See how I can stick my leg all the way in there? I didn't knows I could do this! Methinks I'll wait until Grammie and Momma am in bed sleepie sleepin' a'fore I come and check this out s'more. It's really a neat little monster! I'd like to know why it am always spitting out paper. Shmaybe one day when it's talking, it'll say why!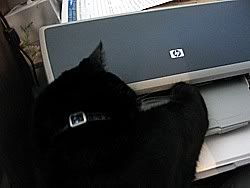 Click HERE to go to the most current post.