What a Good Day!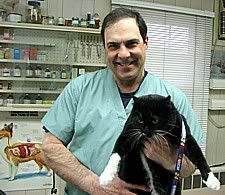 Here I am with my favorite Doctor :) He helped me get better when I had surgery on my belly and he's
really
nice! Dr. Strazza knows just how to give me my shots without any pain...and he does it so fast I don't even have time to react! Now I should probably apologize to him for gettin' a little fussy about when he checked out my teethies but I tried my best not to get too a'scared...honest! He picked me up and we wented on the scale together and know what?! I lost weight! I'm 14-15 lbs! Huzzah! To celebrate my weight loss, I think I deserve some crunchies and stinky goodness don't you think? :)
This am one of Dr. Strazza's doggies. Quite a gorgeous doggie don't you think? Whenever anyone comes to his office, two doggies come and welcome you in the door :) I hissed only the very first time I sawed them...but now I know they am ok so I just try to stay real still and let them sniff my carrier. There was another poodin' in the waiting room with me...his name is Frankie. Him am very upset that his Momma has to leave him there but I don't think he knows how well he'll be treated once he's in his cage! There's loving beans that work for Dr. Strazza...they take really really good care of all the aminals that are there.
I got to see my favorite assistant when I was all done with my shots! She was called into the waiting room to see me and she taked me out and petted me and told me how handsome I was and stuff. It was really nice to see her again! I used to hang out with her when I was healing from my surgery and she'd go around to the other poodins and take care of them and I'd get to sit on her shoulder :)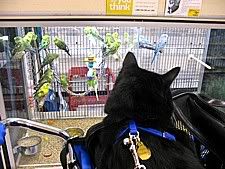 After I was all done with my visit to Dr. Strazza, Momma treated me to a trip to PetSmart! It was a'cause I was such a good boy and a'cause it was my purrthday yesterday! For a special treat, she let me watch and sniff the birdies for a really long time! She gotted me treatsies and catnip mist to spray on my furniture at home. On the way back to our house, she let me sit in the front seat and sniff the good fresh air out the window of the monster with wheels. It's been such a good day, and it's not over yet!!
Click HERE to go to the most current post.