Sun Kissed...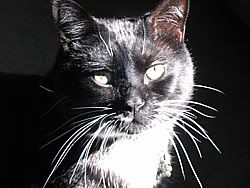 I love this time of year a'cause the sun thing shines in the window next to the computer where I like to lay. I like to roll over on my side and let it warm my belly up :) Here I am soakin' up the rays...shmaybe I should go get my sunglasses?! LOL!! I usually don't like to be too hot but in the winter time, how can ya not wanna curl up in a cozy spot and dream of mousies and fun things to chase? 'Scuse me for cutting this short but I see that the sun thing has moved to another spot on the floor and I've got to get back to my dream of flying fishies!
Also, I wanted to say...
to
Chicos Poogie Baby
and the rest of her family on the safe and healthy arrival of the new puppies!
Click HERE to go to the most current post.