Somewhere over the rainbow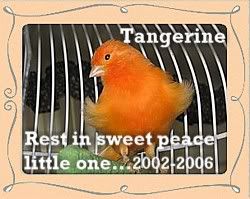 We will all miss you very much little birdie. You were very kind to let me sniff you when Momma held you. Your song was like nothing we've ever heard a'fore and now, you can sing in the trees with Misty, Sunny and Toby. Be a good birdie and eat as many morning eggies as you want now. We loved you very very much Tangie.
Click HERE to go to the most current post.