WalMart am Good.
And I will now tell you why WalMart am good. Momma never shops there really but the other day she did. She's so silly...she wented there to buy a package of post-it notes a'cause it camed with a free Carl Edwards keychain...LOL!!! Momma's friend tolded her she am a true fan. Anyway, while she was there, she wented to the aminal section. Guess what? She gotted me goodies!!
This am me in my new squishy box. It has lamb wool in it and a swinging fuzzy ball that I can never seem to hold on to! I tried to jump on top of it but it a'scared me. It am not strong like my other boxes I've had. This one squished down with me on top. Am I really that fat?!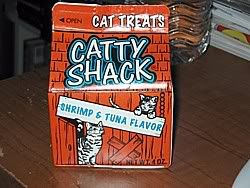 This am the other goodie she gived me. She gotted them a'cause she thought the title was funny. I don't know what was so funny though. But the side of the box says "Shake the shack and they come running!" DUH! Of course we come running! They're really goooood!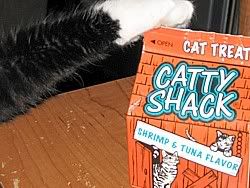 I even helped myself to some while Momma wasn't looking. Tee-hee!!
Click HERE to go to the most current post.