Best room in the house
It is a well known fact that I like the bathroom. There's lots and lots of fun things to play with in there. You've got the tub, where you can peek when Mommy or Gramma is hiding in there, or when it's dry, you can play tub hockey...
It's good for hiding in and jumping on.
Then there's the wicker laundry basket. I use anything made out of wicker for my scratching post. So, I can put my stinky rub all over the basket. Plus, it makes a cool noise when I scratch on it. Sometimes I scatch on it so hard that it starts to move!
I've got two letters for you... T. P.
OH baby is this stuff fun! My latest "thing to do" is grab a hold of the TP roll and bring some of it into my booda loo. Gramma doesn't like it when I do this a'cause then she has to take it out and it grosses her out to touch something that's been near poopies. But, I have been near them too and she still picks me up...(beans are wierd!)
Then there's my personal favorite...the sink! Whenever Gramma is in the bathroom, I open the door, climb up on the tub, step over to the back of the toilet thingy that beans call that white chair, and climb on into the sink. I like the sink bestest a'cause it's just big enough for me to get cozy in. I can sometimes purrsuade Gramma to turn the water on for me to lick. That's always good and tasty a'cause it's real cold. There's neat stuff to touch on top of the sink too. Those little brushes are pretty neat though one day, I saw Mommy put one in her mouth and it made her foam up like she had rabies... I like to sniff and touch all that stuff with my paw but I know better than to lick it a'cause Mommy told me so.
Now, in the picture, I look very big but I assure you, it's just the angle.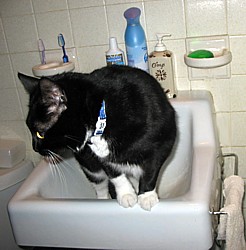 Click HERE to go to the most current post.