Timmy Wimmy to the rescue!
I've been hearing all these stories and seeing pictures of the octopus that is attacking my poodie friends in
Catifornia
and decided I should take action.
I am in my hideout place waiting for that nasty octopus to come my way. When it does, BOOM! It's gonna get a big bitey surprise! Oh and a good kick-kick-kick should take care of it too! Shmaybe when I get a hold of it, I could slap the paws on it and put it in jail...I'll see what my brudder,
Sheriff Jinky
has to say 'bout it first.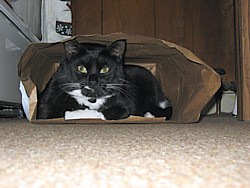 Click HERE to go to the most current post.