Being Braver
I have a'cided that the big monster that blows the air around is a good monster. It's one that I shouldn't be a'scared of or anything. I climbed up in the flower chair and 'vestigated it to make sure my 'ssumptions were correct. Know what? The closer I got, the cooler I got! I likes this monster! Mommy says his name is "fan" but I think I should call him Mr. Fan. It just seems right.
Now, sometimes Mr. Fan likes to look around the room. He knows how to make
Tangie's
cage swing and I think that's fabulous! Sometimes he just stares at things too. Mommy points this little plastic box at him and pushes little buttons on it and he beeps! I think it upsets him a'cause he makes the wind blow harder...not sure 'bout that though...
---
In other news, Mommy left me for a whole night. I was deeply disturbed by this and had to go to Gramma for reassurance. When she came back, the fur on her head was shorter
and
different colors! Oh I hope she never sends me where she went! I rather like my black and white fur!
As if that wasn't enough, she went back out and never camed back until it was time for her to go to sleep! I was so sad...but then when I saw her, I got all happy again.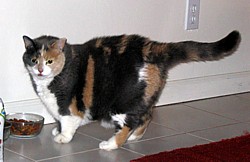 She told me all about where she went. It was her friend's house! Ya know, the house where Belly the cat lives! I got to see another picture of that cute little chub chub... what a surprise, she was enjoying a snack while Mommy taked her picture! A'member Belly? She is all way chubby and has lots more toes on her feetsies than normal poodins. That's what makes her extra special! Oh, and Mommy says she talks a lot and it's really cute a'cause it's not a normal "meow".
Oh and know who else lives there? Two beans that my Mommy used to teach! She says they am all grown up and one is gettin' ready to go to Yale! Oh wow!!! Wait...what's a yale? Hmph, anyway, there am another aminal that lives with Belly. His name is Stewart and I think I'd like to meet him! In fact, I think he could be an honorary member of the
tuxedo gang
;) LOL!!
Click HERE to go to the most current post.