Bensi Baby!
Two days ago, Mommy and Gramma enjoyed a nice dinner a la take-out a'cause it was too hot to cook (over 90 degrees outside)! It smelled really nice and Gramma even let me investigate it. I'm not into eggplant so I turned my back on it. However, the box the food came in was very inviting. VERY inviting indeed. It was a poodie-sized box! I couldn't believe it! I climbed inside and there was just enough room to do a comfy turtle and still have some room to roll on my side a little.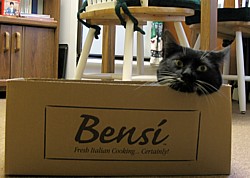 I put the bite on the corner of the box but you can't see it. It was a good bite though, just take my word for it. Mommy thought I was being charming so she went and got the camera and taked this picture of me in the Bensi box :) She said I was making a funny face...my eyes were all big and dilated. Know what? I napped in that box for a good hour. It was real nice.
Click HERE to go to the most current post.