Do you see what I see?!
Oh my poodin friends! My eyes fell upon a glorious sight!
Tangie
! No, not a'cause he am handsome, though he thinks he is... it's a'cause Momma taked him out of his cage and clipped his toenails a'cause they were soooooo long! He cried and cried like a whimpy little baby over it too. Every time Momma would snip another one, he'd scream and kick. Momma says that she'd like to take a nail file to his beak a'cause for such a little birdie, he has a pointy little beak...but, she also said she'd like to do that to my teethies a'cause I have pointy little teethies too...so, I don't think she's serious.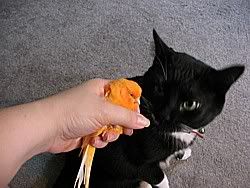 Momma let me see him after he was done getting his nails clipped. He smelled divine!! Gramma wouldn't be pleased to see us so close together a'cause she thinks I could eat him in a nanosecond. It's true, I could. But, I have a feeling he'd taste gamey and there'd be little toothpick sized bones to deal with. Nah, I'd prefer my stinky goodness and crunchies over that male diva any day!
Click HERE to go to the most current post.