What's the Deal?!
So...I was gettin ready to go a'hind the chair like I always do when I want a good nap. But for some reason, I don't fit anymore! Now I know that I've got a bit of belly on me and Momma likes to call me Chub-Chub but...really. I'm not
that
fat! Honest! I used to go through here every day but just like that ::snap:: I can't do it anymore. What gives?!
Well, there's more than one way to get a'hind the chair...
Just up over the arm like this...then, climb over to the other side and hop down...and tada!!! you're a'hind the chair! Now. Let me see what the deal is here. ::sniff sniff:: something doesn't seem quite right. Something smells "new". Like it's never been there a'fore.
Ah..I see what it is! The box that makes music is different! It am a bit bigger!! Here I was thinkin' it was me gettin' fatter but it turns out that it's the box that makes music! It's fatter! Smells different too.
What Momma?! It am new? Oh! A'cause the other music box thing was making funny sounds with those shiny rainbow discs that you were putting in there. I see...yes. It makes much sense now. Wait. What's that I hear?!? My crunchy bowl being filled with crunchies from the bag?!?? Oh!!! I've gotta get out there!! Hiyyyyyah!!! I neeeeed to get to my crunchies!!! Hmmmmph!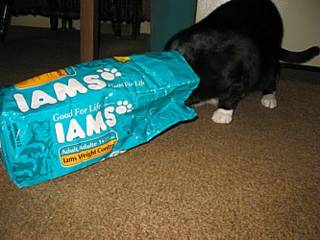 ::crunch crunch:: MMMmmm cruuuunchies....
Click HERE to go to the most current post.