A Fond Farewell...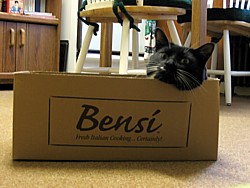 Bensi Box
7/1/2005-10/2/2005
Dearly beloved friends and poodins...we gather here today to mourn the passing of my Bensi Box. My Bensi Box died sometime late in the afternoon on Sunday, October 2, 2005 having suffered from a tear and rip that was unrepairable. Momma camed home to find me still laying with my faithful friend in Gramma's bedroom, on the floor in front of her bed. I didn't want to leave my Bensi Box alone until I knew that Momma would take care of it. Unfortunately, Momma was unable to revive my Bensi Box...
Many a night I would spend sleeping inside my Bensi Box. Oh how I loved to put my teethywork on it. I enjoyed the feeling of it's cardboard a'tween my teeth. I liked how it maked the coolest noises as I punctured it and ripped out little pieces all over the floor like confetti.
It served me very well and kept me from being found out when I was playing hide-and-seek with Momma at night. Gramma would laugh at the sound of me playing with my Bensi Box. She thought it was Momma moving furniture upstairs until she found out, it was just me jumping into it with my front paws and sliding it across the floor. I loved to hide my forbidden treasures inside it's fortress...alas, no more. I shall have to find a new hiding place for my stolen hairties a'fore Momma finds them. Farewell my dear, kind, cardboardy Bensi Box. I loved to put the bite on you.
Click HERE to go to the most current post.