Happy St. Patty's Day!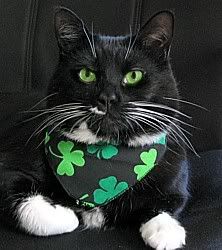 Here I am Lads and Lassies! All decked out in my new
♣
scarf! Notice how it brings out the green in my eyes! LOL!! I'm all ready to celebrate St. Patrick's Day and hope that the luck 'o the Irish am with you!
I got myself up in the office chair to watch the St Patty's Day Parade on the talking box! Knows what? It am a parade of a bunch of beans wearin' green and a bunch of beans playin' instruments!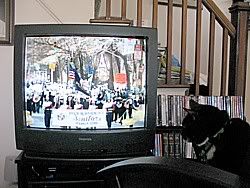 Know who else am in a parade today? Jinky's Momma and Daddy! I bet when they come home from the parade, they am gonna celebrate Larry's Purrthday! I knows we am thinkin' lots about Larry today and the rest of the Catifornians :) They're such good and kind beans and aminals...they always make my purr thing go when I think about them...and of course, there's my lovely wink-wink, Sweet Izzy...purrrr...I bet that beautiful red hair would go well with my new scarfie! Purrr...
HAPPY ST. PATRICK'S DAY EVERYBEAN and AMINAL
and
HAPPY PURRTHDAY LARRY!!!!
Click HERE to go to the most current post.