Bend and Strrrrrretch!
This is how I like to say hello to Momma and Grammie sometimes. Just after one of my famously long naps, I come into the living room (a'cause I know I'll always find a bean in there!) and I walk up to their knee, reach up and strrrrreeeetch on them! It feels oh so good :) And for some reason, Momma and Grammie always say how cute I am and how nice it is to feel my paws on them. And I can always count on Grammie to open the drawer where the treatsies are and give me a few!!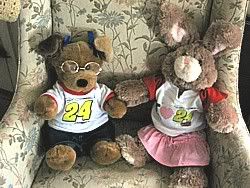 Today, I camed into the living room and looked into my favorite flower chair only to find it being used by some strange fluffies! I got real low to the ground and crept up to the chair real slow... and when I peeked at them, Momma said I was being silly. She said that she gotted a purrthday surprise in the mail from build-a-bear workshop and it had two cards in it! Each of them said "happy birthday" and were worth $12, the price of a stuffed aminal! So, she taked them to the store and gotted these two fluffies...for free! Neat huh? Now I wonder what I should get Momma for her purrthday...it am not until Sunday so I still have time to think about it! Oh...see the aminal's shirts? Momma's kind friend from church gived them to her for Christmas and the look real nice on them :) Methinks that little doggie's glasses would look divine on me! Shmaybe I'll steal them and wear them for you one day!
Click HERE to go to the most current post.