A Divine Package
Momma was just as a'cited as I was today when the bean brought the mail to the house today. There was a nice package in it and Momma got so happy and tolded me to come and open it with her! Inside was a really pretty pair of earring things that
Sanjee
,
Boni
and
Mini's Momma
maked! Them am so beautiful, I had to get a closer look...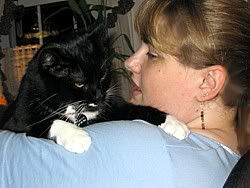 Ya can't see it in the picture real good but them am
the most pretty earring things
I have ever seen! Momma says they am real special a'cause they were made with love and that's the bestest kinda stuff to have :)
Then the real treat came for me! She said there was a special surprise in the package for me! Yea!
See!? See it? Oh it am the most divine smelling nip I've had in a long while! And what made it extra special is that there's another one that camed from my twin sister Boni, Sanjee and Mini! How very kind of you to think of me! I got so crazy nipped that I couldn't think straight! LOL!!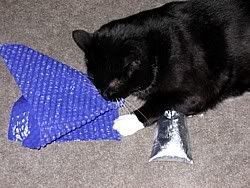 In fact, I got so nipped out that I played with the purple poppy package paper! It maked snappy sounds and gotted me all a'cited!
So, thank you so much for the lovely package Momma Robyn! Momma says she wants another pair of earring things real soon! Everybean and poodin' should go to
www.crystalsandjewelry.com
!
Click HERE to go to the most current post.