Thanks Puff's Mom!
A'cause of your kindess, mine Grammie has been very busy with her silly stick and string! She can keep her arm things moving and it am all theraputic and shtuff. She has so far maked 4 blankies for aminals in jail. She's working on #5 right now. Here I am posing on two of them: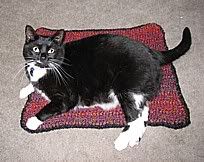 This one was maked with Momma's leftover homespun string and Grammie said it was kinda hard to make a'cause of the string...
This one was maked with the string you gived Grammie. I likes it a lot! It's all way nice to lay on. Momma said I liked it a little too much since she had to tap mine hiney to get me off of it.
I hope everybean and aminal am hiding in the house! It's all way hot across the CatUSA and it sounds like it am all way hot across the pond too. Tomorrow, it am gonna be over 100 out. Momma am happy she wented to the store yesterday...she's gonna go all hidey in the house until the heat breaks. I've never actually seen it break a'fore...wouldn't there be pieces of it on the grass?
I've a'covered from the headless bean incident. It turned out it was a normal bean but I didn't know that until like three hours later. I went all hidey under Momma's bed until I knowed for sure it was gone. When I camed back down, it was gone and Momma told me I was silly about the whole thing.
Click HERE to go to the most current post.