Kaboomies without a storm?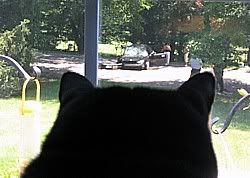 How could there be a kaboomie without a cloud in the sky? Well, we founded out today around lunchtime. We were all watching the talking box when there was the biggest, loudest thunderkaboomie mixed with grinding, scraping metal sounds. Momma jumped up and sawed a monster with wheels facing our house! She grabbed that strange thing called a phone and pushed three buttons and talked into it about the kaboomie in front of our house. In no time flat, I hearded a monster with wheels crying as it ran towards our house! A cop bean gotted out and maked sure the bean in the monster was ok. He was. In fact, I sawed him get out with not a scratch on him! Amazing! Seatbelts and airbags am all way good!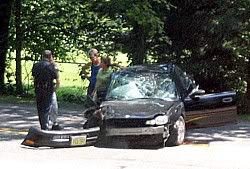 See how the monster with wheels wented kaboomie? It hit a fake tree in front of our house. What Momma? Oh it am not a fake tree, it am called a utilitee pole. Whatev. Anyway, there were no screeching brake sounds like we hear on the NASCAR races (btw, Carl Edwards winned on Saturday!!!) which means that it hitted the pole real hard. On our road, beans go 35-40 MPH so it was a big kaboomie! The cop beans closed our road so it's been real quiet all day long. Well, aside from the great big monsters that camed to put in a new fake tree...err...pole.
This am the pole. Not the big tree in front, but the one by the great big monster with wheels. See where it am all broke at the bottom? Ouch! The pole has wire snakes that run up to our house and give us 'lectricity. Momma wented out and asked if we had to be consurned about losing it a'cause it am so hot out today. The bean said no so we am ok! I'm gonna go a'lax in front of the air box since it's on :)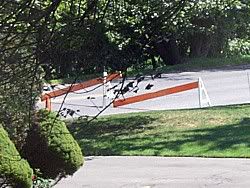 Wait! I almost forgotted... methinks Momma gotted too much sun while she was outside asking about the 'lectricity. She says these things am horsies. Umm...I think she's a little nuts. Them am not horsies. The horsies I sawed on the talking box don't look like that.
So, there am now three great big monsters with wheels outside our house and "horsies" closing off the road and cop beans all over the place making it safe and quiet. It am the first time in a very long time that our road am quiet! It's usually very busy all day long! I'm gonna go a'lax by the air box and dream of crickets...
Click HERE to go to the most current post.