My Walking Jacket
Thanks to my international tuxedo gang buddy,
Bujang
, I learned all walking jackets! I thought for sure they were maked in Singapore a'cause I've never seen anything like them here in CatUSA... I fell in love with his and asked him where he got it and he told me it was bought here, in the US! See how clever, handsome and smart he looks in it? I liked how the leash goes on the back, and not around the neck thing where it always makes ya choke if you try to walk real fast...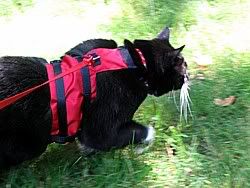 I asked Momma if I could have one and she wented searching for it and gotted it for me! Bujang said to get "red" a'cause it looks most handsomest with our tuxie fur :) He sure is right! This is a picture of me, chittering at a birdie I saw in the yard! I started to stalk the birdie so Momma's picture thing camed out blurry. It am not hot to wear which is good a'cause Summers in Mew Jersey can get awful sticky and warm. Momma maked sure to feel my belly to see if I was gettin' overheated...nah...I wasn't! I was just so a'cited to be outside in my walking jacket!!
When you open the package, there are pictures to help you learn to put it on... Momma laughed at the directions a'cause they were cute: "1. Stand your cat up straight 2. Adjust and buckle the collar so that it is snug! You should not be able to pull it over his ears! 3. Adjust and buckle the girth straps to they are snug but comfortable...Some wrinkling is inevitable and is fine. 4 Attach the leash. At this point many cats promptly lie down! This is a strange but natural reaction and can be really amusing" What maked Momma laugh was that I
did
lie down just like the directions said! What can I say, I follow directions ;)
Thank you Bujang, now I can go outside and sniff the good, fresh air and not worry about choking myself! And, I'll look handsome, just like you!!!
Click HERE to go to the most current post.