Torch Relay: Part One
The
Catolympic
Torch Bearers,
Dino, Egypt, and Tuxie
arrived in Mew Jersey earlier than expected today but that didn't throw me off! I welcomed them to The Garden State with a fine parade through my town: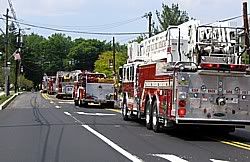 The Woo-Woo Monsters were first in line and maked a lot of noise! They were crying and crying but knows what? I thinks they were happy tears a'cause how could you NOT be happy that the torch is in town!?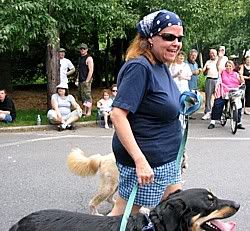 Auntie Wanda marched down the street with Max and Rodger...they were all so a'cited to be marchin' in a parade that they were smiling!!!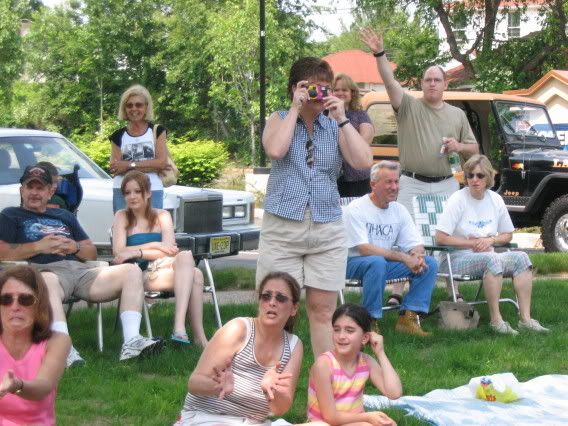 All the beans in town camed out to cheer the Colorado natives as they went runnin' by! One even taked a picture of them as they camed by!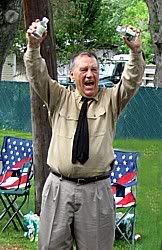 Mr. Paul am a kind bean who thinks of everything. Him am cheering the poodin's on and also brought fresh spring water for the poodin's journey down the main street.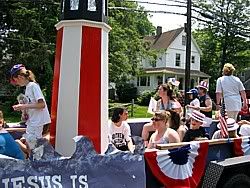 Momma's church maked a float! Not the kind you can drink, but the kind you ride in! It had a lighthouse and all the beans inside of it threw candy to the parade cheerers! (Momma am in the picture, but she am hiding...she's on the left, sitting down...it's just her back)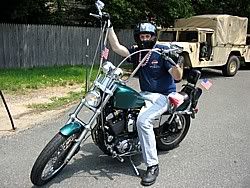 Uncle Paul showed off his new monster with two wheels! He maked lots of vroom vroom noises that maked all the poodin's tails go way big! It was very a'citing!!!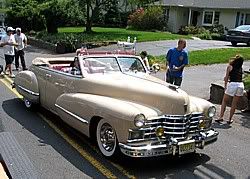 Some beans wented in this old monster with wheels...it am not looking old, but Momma swears that it am old...so I just agreed with her to make her happy (Methinks, Momma gotted too much sun at the parade today).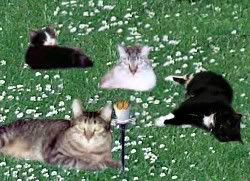 After the parade was over, it was time to come to my house for a well needed and deserved catnap! I served up only the finest of nip (grown organically in Momma's herb garden) and the best tuna juice...then we feasted of Stinky Goodness! I enjoyed the delicious
mousie ice treats
they bringed with them from Colorado...I must say, it's the mostest divine treat I've ever had! I asked them if on their way home, they could stop in the Springs and say hello to my Auntie Deb, Uncle Gene and Cousin Riley-dog which they said they would do! I loves my Auntie Deb a'cause she loves me so much! How lucky these poodin's are that they can live so close to my Auntie Deb, Uncle Gene and Riley-dog...sigh...
We all retired to the backyard where we rolled around in the clover, chewed on the kitty grass, enjoyed the good fresh air and of course, watched all the birdies flying back and forth! I'd better rest up a'cause I'm headed to Pennsylvania tomorrow to paw off the torch to
Smeagol and Strider
!
Click HERE to go to the most current post.