Pin the tail on the Timmy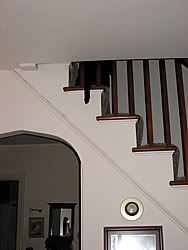 Here I am sitting at the top of the stairs in the living room. I usually do a turtle on one of the top steps and stare out over the room to watch Momma and Grammie but today, well today I wanted to show them my other side. I stuck my tail out and let it hang for them to see... Momma kept calling me to turn around but I refused. She even warned me that I was being rude and that she'd take photographic evidence to prove it. I told her I did care.
She said I needed to either turn around or come downstairs...But what she didn't know is that there were birdies up on the air box that sits in her window in the bedroom. I could hear them! I had to keep an eye on that situation just in case they tried to sneak into the house. I wanted to sit this way and there was nothing she could do to stop me! So there! Hmph!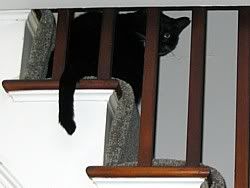 Click HERE to go to the most current post.