Cinco de Meow-Meow
I was so a'cited to celebrate Cinco de Meow-Meow today! I was asked to sing first tenor in the local mariachi band! First, I decided to double check my guitar thing to be sure all the strings were on and it was all tuned up...
Then, I suited up and went out into the plaza to sing it up! Ole! What great fun to sing so loud and in tune with the other beans in the band. that's me in the middle! :)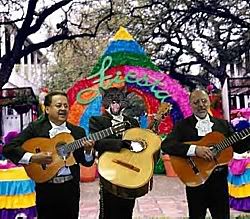 After the concert was all over, I was invited to join the others in the fun of breaking open the fancy star pinata! I had to wait my turn but I got too a'cited and sat up like a doggie the whole time!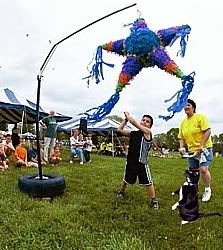 Somebean gived me a bottle with a buggie at the bottom of it. It looked like it was drowning in that funny smelling water so I tried to save him by drinking it all...and then everything went blank for a while. When I finally started a'membering things, I realized I was real hungry so I eated some shrimp and chicken from the paella that was served and then I threw on my sombrero and went out to celebrate the rest of the day!
Grammie
asked me to help her make a recipe so shmaybe I'll head over there next!
Happy

Cinco
de
Meow
-
Meow
Everybody
!
Click HERE to go to the most current post.