Benefits of Being Around A Purrthday
I loves me a good purrthday and today was Momma's purrthday! Now that means that I gotted to celebrate by waking her up real early and putting the bite on her hand so she'd come give me some stinky goodness...
It also means gifts! Yeah and Momma gotted neat ones too! Unfortunately, Momma's camera am not feeling so good and had to get plugged in the wall thing so we didn't get too many pictures but I'll tell ya 'bout some of the gifts...the ones I benefited from!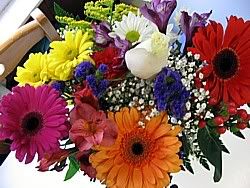 Yesterday, Momma gived one of her bean students a voice lesson. She said it was the bestest one yet a'cause Jastlin's voice sounded really good! But after her lesson was all done, she sang "Happy Purrthday" to Momma and Jastlin and her Mom gived my Momma this delicious salad! Isn't it lovely!? You should smell it...it's divine! It's one of the benefits of being around a purrthday...
you get to smell the fancy purrthday flowers (and try to eat them when Momma isn't looking)
.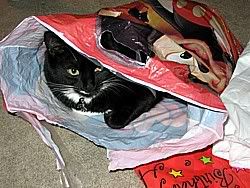 Today, Momma opened all her gifts that her friends and family gived her! Oh it was so a'citing!! First she had to go to church and wave her arms at the beans in the choir. Today, Bethany (her link is on the sidebar) singed a solo with the choir and Momma was very happy a'cause it sounded so good! Then, Bethany gived her a bag with a mouse on it! When Momma gotted home, she took her gifts out of the bag and let me go in it! This am definately a benefit of being around a purrthday...
you get to do a turtle in a bag
!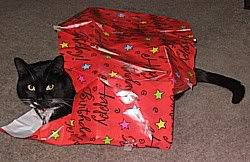 Momma gotted all Tigger stuff from Bethany! A Cubee Tigger, and two very nice mugs that I know Momma will use lots. She drinks smelly hot stuff out of mugs... Once Momma opened her gifts from Bethany, she let me lay on the paper! Know what?! I a'cided that the bestest gift to give my Momma was me! I gotted inside the paper and a'tended to be a gift myself! Grammie caught a picture of me waiting for Momma to open this "gift"... This am a benefit of being around a purrthday...
you get to give someone you loves oh so much all of yourself and your love!
Purr
rrr
....
Momma's picture thing stopped working for a few hours but I will tell you and you'll have to imagine it m'kay? Beau and Beau's Mom gived Momma a nice box. Oh inside the box were all kinds of things! Some had poodie cats on them and Momma said that she can put little pictures of me in the bookmark and framed magnets that go on the refridgemator. There was shtinky good stuff at the bottom of the box. Momma called it "peau-poor-E" I called it divine. And Beau's Mom maked pretty bead things that Momma let me sniff. I maked a stinky face at them a'cause I could smell Beau and Beau's Mom on them! There was also a piece of jewelry in there for me...I think...well, I tried it on anyway! It said "I'm Special" on it so I only assumed it am mine a'cause Momma says I'm special sometimes. Beau, Momma tolded me to tell you and your Momma "thank you". I say thank you too...a benefit from your gift was that box...
you get to smush yourself into long, small boxes
(which I did 3/4 of the way in!) Not bad seeing as how that box was very small...shmaybe I'll save it for the catolympics!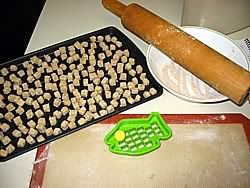 Next was the gifts from Auntie Deb and Uncle Gene. Auntie Deb called her gifts ek-lek-tick. I dunno what that means but there was some really good smelling stuff in that box. Momma said that it was for her and that it might make me sick if I tried to lick it...some of it was in the box...a'cause when it comes from Colorado, sometimes it goes kaboomie in the box from the air pressure change. I dunno...whatever, that stuff smelled good. I maked stinky faces at it. And then, the most wonderful thing happened! Momma said "Oh look Timmy! Something for both of us!" I wented over and saw a green fishie with a lellow eye thing and lotsa holes in it's belly. It came with a little book that said "Cat Treat Recipes". HELLO!!! And Momma read through the book and said "Good News Poodin! We have the in-greedy-mints to make tuna treatsies!" Oh Joy and Rapture! This am most definately a benefit of being around a purrthday...
Getting to eat the treatsies Momma maked from scratch with her purrthday gift!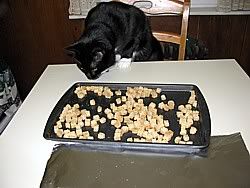 Are they cool enough to eat yet Momma?
Click HERE to go to the most current post.