Pawtrait Sur"prize"
Momma gotted the mail and said there was somethin' in it for me! Oh how I loves me a good surprise!
Here I am checking out who the nice mail was from...
Finnegan and Buddy!? Oh neato!! Shmaybe it am my surprise for winning the pawtrait contest!
It is! It is!!! Look, here I am with my certificate! It even has Finny and Buddy's paw prints at the bottom!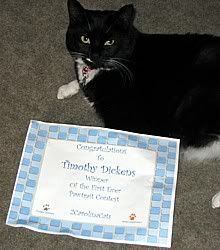 Oh I was so a'cited to see my gifts hiding in the white envelope thing!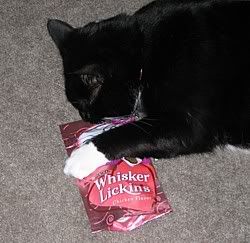 How did they know that treatsies am my most favoritest thing in the whole wide world!?!? Well, aside from Momma and Grammie...and all my online friends...and well, shmaybe I have lots of favorite things...but treatsies rank very high!
This am the most divine gift! Momma says that it was maked especially for me! See? It has my name on it and everything! I putted my pawtrait picture inside of it...since it only made sense...that's why I won it! I loves it so much Psst...Finny and Buddy, give your Momma some super hard headbutts and make sure to lick her arm lots for me m'kay? I really think that my sur"prize" for winning the contest was really really really nice! It was so kind of her to make that pretty frame for me! Momma taked it away though...she says that she'll take care of it. Now it's up on the "don't put your paws on there Timothy" shelf.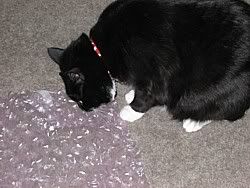 Know what else was fun? The plastic poppy paper! I likes to snap the bubbles in my teethies! It makes me jump and Grammie and Momma laugh!!!
Click HERE to go to the most current post.