Pest Control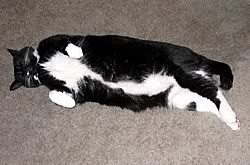 I went with Momma into the basement where the monsters live. There are two of them down there that she puts her things into...it eats them up and gets them all foamy and makes them all wet. Then she puts her things into the other monster and it rolls them around in it's mouth and makes it all hot and dries them off.
I don't go in that room but I do like to sneak down there while she's doing all that stuff... this time, she let me come all the way down and investigate! Oh poodin's the things I saw! There were all sorts of interesting smelly things down there. Knows what? I sawed Tangie's cage and looked at it hoping to see him but he wasn't in it...maked me kinda sad. But then I sawed the deer that live on our lawn during the Winter season! I sniffed them all over and put stinky rub on them. Them am mine now.
Then I hearded Momma calling me. She was in trouble and I had to rescue her! I camed running and sawed her pointing at a BIG buggie!!!! It was hopping everywhere! Everytime it hopped, I hopped with it! She wented back into the room with the monsters and know what I did? I bringed her the dead buggie and put it at her feet and looked up at her. She maked a loud noise and jumped back but then she said I was a very very good boy and gived me a nice petting :) So, I eated it. It tasted like a buggie. And then know what? There were three more that I gotted! I brought them all to Momma and everytime I did, she would pet me and tell me I was a very good boy :) Maked me purr lots...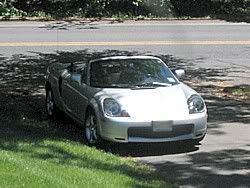 This am a buggie of a different kind. It am really a monster with wheels but Momma calls it a spider. I dunno why a'cause it doesn't have long legs... It camed into our driveway and stayed there for a while...then I sawed Momma's Uncle get into it. I dunno if the buggie eated him or if he willingly got into it??? Just to be sure Momma wasn't afraid of it, I stayed real close to her until it wented away :)
---
I was just watchin' the talking box with Momma and Grammie and heard more news about Lewis...we should all cross our paws and say a prayer for him. He "attacked" some beans that got real angry with him and now he faces the death penalty for his actions. You can read more about his story
HERE
Click HERE to go to the most current post.