What a day...phew!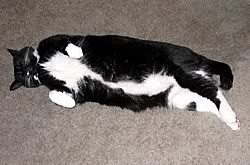 My
gosh
those Catolympics were somethin' else I tell ya! I'm 'ficially pooped!!! I had a good time rootin' for my furry friends. I've never seen a place so nice as those big piney woods. We don't have many pine trees around my house so of course, I had to go and sniff them. I put my shtinky rub on them to claim them but I don't think it worked...there were too many cats around! We all tried to claim them! LOL!!!
Anyways, I got honorable mentions for some of my events and I even a'tended to be real upset about not winning. I thought the 'lympics needed some "spice" (like the Tonya Harding "incident") But I guess some of the other beans didn't understand it was a joke and took it seriously. I was kidding and there should be no mean word things said about me or my "fake" protest!
Momma says I was a silly boy for doing something like that a'cause beans can be very sensitive sometimes and she am making me 'pologize for a'tending to be cranky.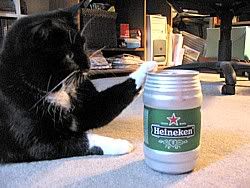 I'm bringing this here party keg to the nap-a-thon. It am filled with nipaholic, not beer stuff. Good stuff. What's that Momma?! Oh she wants me to tell you that we am
not
drinkers in this house. I dunno what she means by that though...we drink all day long! She and Grammie drink diet wild cherry pepsi and I drink icy cold water (She's nuts I tell ya)!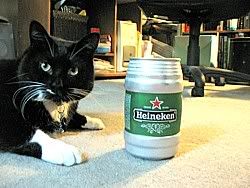 What Momma? Ohhhh...she meant that we don't drink that beer stuff in the picture...she gotted it for a recipe. She maked Brats and onions with it. Oh wait, this is funny... when she eated it, she said the onions were nasty and bitter and maked a funny face! Auntie Wanda laughed at her a'cause Momma forgotted to cook off the alcohol a'fore adding the onions. They sucked up all the nasty, bitter tastes. Yucko!!!! That's why I stick to Stinky Goodness. Ya can't ever go wrong! Beans eat some weird stuff I tell ya...
Click HERE to go to the most current post.