I loves to shop!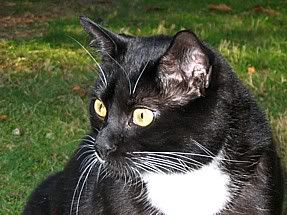 I went to PetSmart with Momma yesterday in my new jacket. I was the hit of the store!!! Everybean that worked there camed and visited me and called me by name! I got some really good head scritchies from one of the girl beans...she says she has a tuxie just like me at her house! There were doggies all over the place so Momma maked sure each aisle was clear a'fore we went down them. I sawed this one bean shopping for a new leash and said hello to her real loud...she jumped! LOL!! She didn't knows I was in the cart a'cause I was so calm and such a good boy. You can tell she was a little afraid of poodin's, but I reached out with my paw and touched her arm and meowed real soft and Momma told her that I'm a good boy and wouldn't hurt her and she petted me! She told me what a good boy I was and that I knew how to woo the ladies :)
Momma taked me over to see the birdies and my eye things got all way big! And then I hearded water running and peeked around the corner and knows what I sawed?! A pond! Right in the middle of the store!! And there were fishies in it!!!! I maked my eye things so BIG Momma thought they was gonna pop outta my head! LOL!! But I didn't try to catch them, I just watched them from the cart.
When we got to the stinky goodness aisle, I got so a'cited my tail quivered and I started meowing like a looney cat! I was doing bread-n-butter on the handlebar of the cart I was now standing in... Momma picked out 7 new flavors for me to try. I founded out that I LOVES
"grilled"
stinky goodness and no other kind will do! So, as she picked them all out, I put my stinky rub on each one like five times! Momma laughed and told me I was being very silly and that she couldn't open them right there in the store. She also realized when we gotted home that they are looking like a rainbow! (Chakra for Kittes LOL!) She also gotted me new friskies treatsies that are supposed to have hairball remedy in them. I've never hadded a hairball that I a'member...so I don't know why I needed "remedy" but she said it helps keep them away too!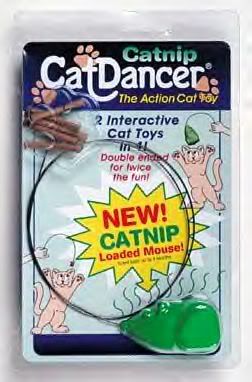 She also boughted me a toy. I didn't knows it at the time, but when we gotted home, she taked it out and I went craaaaaaazy! I'll have to see if I can get pictures of me playin' with it a'cause it's like really awesome! It am called a Cat Dancer! I go all the way up in the air and twirl around and all sorts of stuff with it! (and it
totally
smells like nip!!!)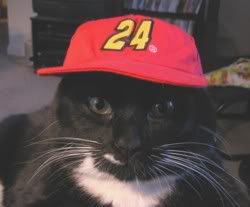 PS...guess who won on Sunday!!
Click HERE to go to the most current post.