iPod MEME

I gotted tagged by Princess Mia (and Sophia through e-mail) to do this fun iPod MEME! Momma's iPod am her most favoritest "toy" and Christmas pressie she ever gotted.
Here's how it works:
Put your iPod on shuffle and blog the first 20 songs in the shuffle.
"Runaway" by Pink (I'm Not Dead)
"Such Great Heights" by Iron and Wine (Garden State Soundtrack) Ooo! This one am one of Momma's most favoritest songs in her iPod...it am on my xanga site as well as hers.
"Time" by Sarah McLachlan (Afterglow)
"Voice of God" by 4HIM (Encore...For Future Generations)
"Who Am I" by Casting Crowns (WOW HIts 2005: Purple)
"Who Needs Shelter" by Jason Mraz (Waiting for My Rocket)
"City Lights" by Peter Field (Other Songs and Dances Volume 1)
OOO! OOO! How fun that this song came up! Peter Field am one of Momma's classmates from when she wented to college. Him am very talented and produced the CD, Other Songs and Dances Volume 1, along with being a beautiful composer. OSAD vol. 1 is a really good "chill out on a rainy day, a'lax after a hard day, mellow out" kind of CD. It comes highly recommended by Momma, not only a'cause she knows Peter and a few others involved in the making of the CD both a'hind the scenes and as a performer on it, but because it truly is a beautiful CD. Click HERE to go to myspace and listen to some of the songs! (Jeff Dueck's song is downloadable for your own iPod! He happens to be another classmate)
"Ava Maria" by Paul Schwartz (Aria 2: New Horizon) This is a funky CD! If you like opera and electronica, this CD is all way good! It's a fun way to get beans that don't like opera to enjoy it :)
"I Can't Do It Alone" by Catherine Zeta-Jones (Chicago Soundtrack)
"No One Needs to Know" by Shania Twain (The Woman in Me) a good tail boppin' song!
"7 Days to Change Your Life" by Jamie Cullum (Catching Tales) Oh sheesh...Jamie am Momma's new crush and this happens to be one of her most favorite songs at the moment. It's ALWAYS on!!!
"Apres Moi" by Regina Spektor (Begin to Hope) the latest edition to Momma's iPod
"Open up your eyes" by Jeremy Camp (Music Inspired By The Cronicles of Narnia)
"Without You" by Adam Pascal/Rosario Dawson (Rent Soundtrack)
"I Miss You" by Incubus (Make Yourself)
"Angel" by Dave Matthews Band (Everyday) Momma likes DMB very much.
"Magnificat: Of a Rose" by John Rutter (Rutter: Gloria) Yay!!! Momma loves John Rutter and sawed him conduct Magnificat in purrson at Carnegie Hall (she said she was in heaven...but methinks she lied about that)
"Winter" by Tori Amos (Winter [EP]) Momma loves Tori's way of playing pinano. She am strange, but wicked awesome musically!
"Good To Be Free" by FFH (Ready To Fly)
"Don't Lie" by Black Eyed Peas (Monkey Business)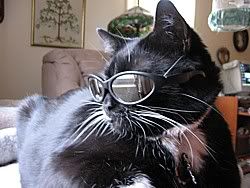 Oh that was all way fun! I gotted to listen to the songs while Momma pushed the button! Momma putted back her favorite tunes for the moment...what a shocker...Jamie Cullum. Momma? What's up with you? You NEVER liked jazz a'fore! I think my "cool cat" ways have had an effect on you!
Have I ever showed you what I did to Momma's ear things that make the music come out?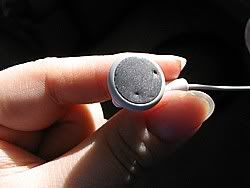 It met a toothy death.
Methinks I will tag mine cousin a'cause I knows for sure Auntie Deb has an iPod...
Click HERE to go to the most current post.