Grammie's Hobby
Do you know what these are?
They're not candy and no, they're not little cakes...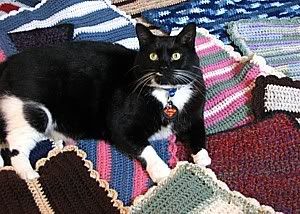 They're
Grammie's Kitty Blankies
! She maked so many of them with that silly stick and string! Grammie gotted so many different colors from Puff's Mom and Oreo's Mom and the old lady next door and she has been very busy.
Grammie gave them to Dr. Strazza. He helped me when I had trouble with my belly and made me all way better. Grammie wanted to send them to him to help keep all the kitties warm while they were in jail...err...I mean, at the hospital. I helped pack them up and Momma brought them to Dr. Strazza this morning.
This am Charlie. He is trying out Grammie's Kitty Blankie and he seems to like it very much! Know what? Charlie needs a forever home. He posed pretty for the camera so that shmaybe somebean might want him. He's 13 years old and very very kind. Momma said he melted like butter and gives you love eyes... He purrs and meows very nice. Charlie is declawed in the front just like me.
If you are interested in
Grammie's Kitty Blankies
, or in
adopting Charlie
, please email Momma. You will find her email link on the sidebar--->
Click HERE to go to the most current post.