Blah Day.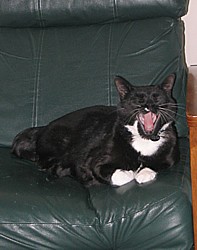 It snowed for the ten thousandth time this year. The weather is cold and wet. The sky is grey. Tangie is sleeping. Mommy is playing with her silly sticks and yarn. Gramma is napping. What a boring day to be a poodie. Nobody wants to play with Timmy. Think I'll curl up and take a nap with Gramma...
::Update::
I read in my shotbox that
Larry
feels it's been very quiet around here lately. After reading
Ginger's blog
, I found out why!
Blogger
is having some problems with the "comment" portion of the blog. They are aware of the problem already a'cause I checked and this is what it says:
Users are currently getting "Blog not found" errors when accessing comment pages. We are working on getting this resolved ASAP.
That's why it's been so quiet and would explain why I could only leave messages on some of my poodie friend's bloggies. Now that makes my day a little more 'citing! That and the screaming, flashing red monster with wheels that just went past my house! Hope it's a practice run and there isn't a fire somewhere!
Click HERE to go to the most current post.