A Grateful Poodie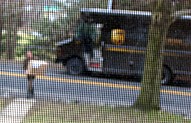 The UPS brown monster with wheels camed to the house again this morning... Only this time, the box wasn't for Gramma! No pirates booty, no bedspread...nope! This time, it was addressed to Timothy Dickens! That's me!!! Oh I was so excited that I chittered at the window :) Just what could possibly be in that great big box for me? Shmaybe it's a mistake and it's for my Gramma or somethin'...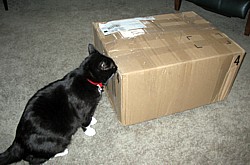 Well, it does sure smell good whatever's in there! Shmaybe Mommy and Gramma can help me open it in the kitchen...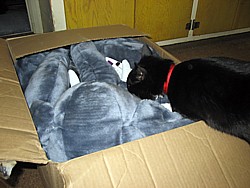 Oh! It's an elephant!! There's an elephant in Mew Jersey just like
KC
said!! And know what? It smells divine!!
Look! Look!! There's more! The elephant brought some special treats from Catifornia!! Oh!!
Doggie Buttons
from Shadow and Jannie!! (I ate one already and Mommy said I didn't chew it, just gulped it down...too excited to chew) And catnip that's simply glorious! Oh and Look!!
Larry
sent me some of his yummy
Figaro Tuna
! Mommy says she never saw that 'round here so that's extra special! Shmaybe I can convince her to let me taste some even though I had breakfast already ;)
Here I am checking out my new elephant beddie! It smells a little like my friends in Catifornia! And Mommy sprinkled some of that yummy catnip on it and well...I just had to check it out! I got up on there and did a dig-dig-dig! Tried to bite the paper attached but Mommy just said to wait and she took it off so now I can lay down on my nice elephant :)
To all my dear Catifornia poodies, doggies
and 'specially Bean Mom and Dad,

You have made me such a happy kitten this morning. I can't seem to think of the right words to say a'cause I'm speechless. This is the most beautiful elephant beddie I have ever had. It is so soft and squishy and warm...and how can I forget the catnip that Mommy sprinkled on there?! Oh I just can't wait to sleep on it! And also, thank you for the lovely doggie buttons Jannie and Shadow! They're nummy! Mommy said I can have another tonight! I can hardly wait!! Oh and Larry, I know how precious your Figaro tuna is so thank you kindly for sending some for me to taste. They're like my version of Table Talk Pies and Devil Doggies :)

Love,
Wimmy
Click HERE to go to the most current post.