Mt. Timothy
Know what? I made a fascinating discovery this morning. When Mommy made Gramma's bed, she took all the sheets and blankets off and put different ones on. And, when she wasn't looking, I snuck in them! Yea! And then, I pretended that I was a big mountain!! Look! Look!! See?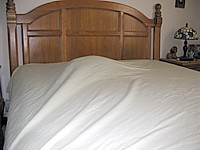 But then, I was founded out by Mommy and she told me that I'd get hair all over the new bedding. Isn't that the whole point of having me on the bed in the first place?! Sheesh! Mommy can be downright silly sometimes. I turned my head and looked the other way so that Mommy would see I wasn't listening to her and I stayed under the sheet until I got good and ready to come out.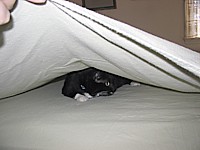 Click HERE to go to the most current post.