My Purrthday!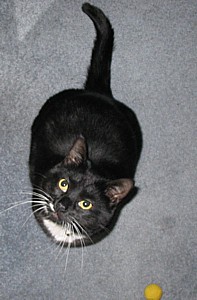 Today is my purrthday! I was 'dopted a year ago today :) In honor of my purrthday, I decided to remember my very first post. When I went back and read it, I can see how much I've changed and also how much things have changed here! We no longer have Buttons the parakeet. He was too fresh and Mommy said he was too much of a temptation for me so he went to live with another family.
I'm so happy to have a nice warm house and a loving forever family to call my own :) Tonight, I heard a rumor about a purrthday cake! I hope I am right about that! I'll let you know tomorrow what happened...for now, enjoy my very first post that I wrote a whole year ago!!
New Home

I finally have a home! I was rescued from the animal shelter after being on the streets by my Mommy on Sunday, March 14th. This shall be considered my purrthday since I don't know myself when I was born! I'm already a year old and Gramma thinks I was somebody else's cat because of how well I obey commands (I obey her because I like her lots).

I am Timothy. My name means, honoring God which I think is quite nice. Mommy and Gramma picked it out for me. For a minute there, I thought my name was gonna be Whiskers which, if you ask me is quite feminine...

I like to consider myself a Tuxedo Cat. Most of the other cats I see online that look like me are called "Tuxedo" because we're black and white (geniuses these humans are). I like to think that I am always well dressed for the occasion.

I'm a little spooked about the idea that I have a whole house to roam around in. I've been in "jail" for the past month so it's nice to finally have some room to run in but there's soooo many places to go!

Oh, have I mentioned the birds? There's one that's fat and blue. The other is orange and sings a lot. If I could only get my paws on them! I don't know what comes over me when I see them! It's like the rest of the world fades away and it's just me and them... How I long to get closer to them. Mommy says they're for looking and not touching. Gramma gets angry because I stare too intently. I can't help it! They look yummy!!! I'm on a no-bird diet. So far so good but I have to tell ya, it is hard to resist the temptation when they flaunt their feathers in your face!!!

Well, it's night and I've got things to do. I've been waiting for Mommy and Gramma to hit the sack so I can check the place out more thoroughly without them in the way. Unfortunately, Gramma says she gets up a lot so this could get tough!
::Update::
Here's pictures from my purrthday party! I got these nice new treatsies:
Those Deli Selects are new from Whisker Lickin's and man, they're wicked goooood! Oh, the Easter Eggie is a treat a'cause Easter is coming soon! I'm gonna play with it lots!
And remember I said I might get a cake!? I got one! An ice cream cake!! Look-Look!!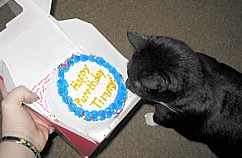 Mommy and Gramma said I can sniff it and lick a little vanilla but I'm not allowed to have the chocolate part a'cause it's not good for me. Oh this has been such a nice fun day! And the sun thing came out and warmed up our house and Tangie sang a special purrthday song for me!
Click HERE to go to the most current post.