My version of Kitty City :)
When I went to see Dr. Strazza yesterday, I saw five doggies! They didn't see me a'cause I was all stealth in my carrier. But I saw the two doggies that greet you at the front door (them am mother and daughter I think...) nice big doggies. And then when I was waiting my turn, a chocolate lab came in and saw the doc before me! He was hacking up a storm in there!! While I was in the waiting area, two more doggies camed in! One was a weimaraner named Thunder. He had really cool eyes! Mommy said that if we had a nice big house with a fenced in yard, she would want one of those doggies a'cause they're very handsome like me. Then, right a'fore I went in, a little girl puppy who was only three months old camed in! She was so cute Mommy went over and petted her lots. She was makin' cute puppy noises and waggin' her little tail.
So, then it was my turn. I went in and got all a'skeered of what the doc was gonna do to me so when he opened my mouth, I tried to bite him real fresh-like and made a nasty noise. I was only tryin' to show him that I can be real mean but he just petted me and calmed me down. I like him a'cause he knows how to relax me. Mommy asked if he could weigh me. This was embaraskin' a'cause I know I'm big. Turns out, I'm 18 lbs. of pure Timmy love (You can put your eyes back in your head now). I got two shots in my hiney and a'fore I knew what happened, I was put back in my carrier and I was in the car a'fore you could say "needle"! I survived my shots!! The luck of the Irish was surely with me :)
Mommy took me to Petsmart a'cause she said I was real brave and deserved a special treat. I love Petsmart!! I meowed my way through the store and we bought all sorts of stuff like fancy feast, a go-get-it ball, a purrthday present for
Larry
and Mommy got a purrthday present for one of her teacher friends. Then...we went by the furniture department. I can't contain myself when we go there!! I climbed out of the carrier and shimmy shaked my hiney and jumped right onto one of the kitty condos. I was meowing like a crazy cat! I have wanted a condo sooo bad! I always see
Kitty City
and dream of what it would be like to have my own condo. Well, guess what?!? I got one!! Mommy got this one for me and now I'm as happy as a piggie in mud!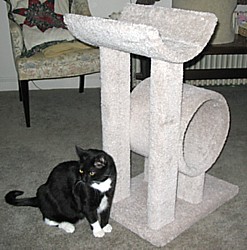 Tada! Here I am posing with my new condo
:)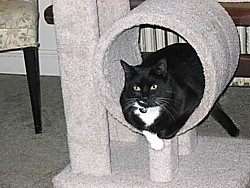 This is the purrfect place to chill!
Here I am on the top, winkin' at my
wink-wink, Izzy
!
Click HERE to go to the most current post.