What a Happy Day!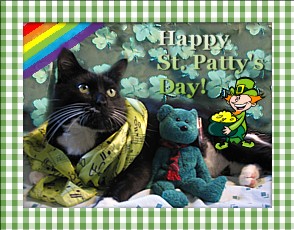 May the luck of the Irish be with everybean today!

Can you believe my Mommy and Gramma are eating something called Irish Soda Bread?! I love bread! It's my favorite bean food! But...this one has funny brown things in it and it tastes funny. It's not like the bread they normally eat. Shmaybe it's the soda. Don't they usually drink soda? Why put it in bread?! LOL!! My beans are silly!!
Oh, I'm gonna need the luck of the Irish with me today around 10:00 a.m. a'cause I have to go see Dr. Strazza. He is gonna check me over and give me a sticky needle. I'm a little a'skeered but I've seen Larry take needles a'fore so I am gonna be brave just like him!
Speaking of Larry, did you know today is his Purrthday?! I think it's grand that Larry has his purrthday on St. Patrick's Day a'cause everyone celebrates and has parades! They even turn the river in Chicago green! And we all know that green looks real good against orangy red hair like Larry's!! I think that we shall change today to St. Larry's Day and wear somethin' orange with that green!

Have a very special purrthday Larry!

Love, Purrs and Licks from all of us out in Mew Jersey!
Click HERE to go to the most current post.