Me and my many names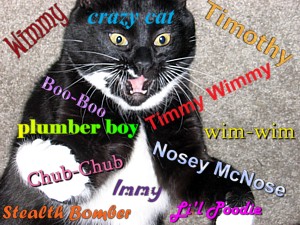 I
must
be a smart cat to come whenever I hear any of those names! There are a few others that I didn't put on there like..."no, stop it" and "bad boy no" but I didn't want to taint the picture with those kinds of names :)
Mommy mostly calls me Immy or Wimmy. But she calls me all of those names and I'm quite proud of each one! Well, maybe not Chub-Chub (which she called me in front of Gramma's friend) but all the rest I like a lot!
I know that
Larry
is sometimes called Bobble, and
Jinky
is sometimes called Stripey Nose :) But I'm sure there's lots more names that I don't know about! Do you have nicknames? Inquiring poodie wants to know them!
Click HERE to go to the most current post.