The Gift Box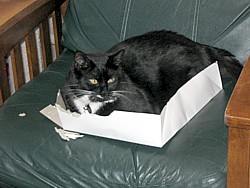 Here I am trying to wrap myself up in a gift box. I wanted to send myself to
Sweet Izzy
so that I could cuddle with her...but...I heard these voices in my head saying, "
Immy, taste the box Immy! Shmaybe it tastes like tuuunaaa
" and "
Immy, put some teethywork into this here box...
" so I thought to myself that those voices are right. Shmaybe it does tastes like tuna. Shmaybe it would be better with some teethywork on it. So, I got all comfy inside of it and popped my teethies into the side.
Didn't taste like tuna.
But, I think it looks much nicer now that I've ripped a few pieces off and poked some holes into it. Yup! My teethywork is evident here and I'm purrrroud of it! Only problem is...I can't wrap myself up in the box. I don't have tape and I don't likes the feeling of the sticky tape anyway. Oh, I'll have to loves my Sweet Izzy from afar...sigh...
Click HERE to go to the most current post.