Magic Poodie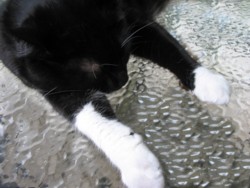 Did you know that I can sleep on water? Ya! I'm a magic poodie!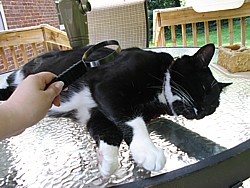 Just Kidding! I was out on the fancy see-thru table on the deck! Mommy was using that funny looking defuzzer thing that she brushes over my fur. This am the third time she's done this in the last month or so... It takes out all my winter fuzz that has been makin' me so hot these days. See how a'laxed I was? It felt really good! I almost fell asleep and in the first picture, I even put out my sleeping paw (it's the one I always sleep on)! Know what? I am
still
a magic poodie. Wanna know why? I bet you do!
It's a'cause once Mommy was done defuzzing me, she gave me a pet and noticed how very shiny my fur was! She said it am like a stick of butter a'cause it's so soft. Just wait until Auntie Deb pets me! She'll never wanna stop! I'm a magic poodie! A'fore the defuzzer, my fur was fluffy and hot...after, it's soft and shiny! Magic!
Huh? What's that you say? It's
not
magic? It's just that Mommy brushed me?? Oh man, way to rain on my parade...
Click HERE to go to the most current post.