My Smootch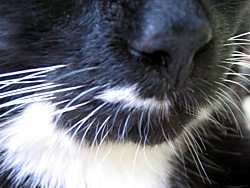 Here it is, my smootch spot.
Mommy loves it so much. She always tries to give it a little kiss. Eww...not with her lips, she tries to kiss it by kissing her finger and touching my smootch spot.
Sometimes, she tries to be funny and she'll say, "ya got somethin' right...there" and she'll point to her face, right where my smootch spot is as if I was messy when eating or something. Har-har.
Sometimes she says I was very messy when I was playing with white paint. She says I stepped in it and then tried to wipe my nose...oh she's just so clever...
The truth is, God wanted me to have a smootch spot so He gave it to me. That's all.
Click HERE to go to the most current post.