Know What?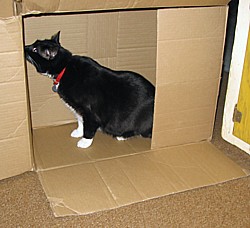 I like the box that the elephant came in too :)
This morning I had a special treat sent to me by Larry! Figaro Figaro Fiiiigaro! Oh it was so smelly and good! There were little bits of carrots and parsley in it too! Mommy said it was like tuna stew! She put the rest away a'cause if I ate the whole can, I'd do a major stinky and that would be frowned upon. I ate a little of it and then pretended to cover it up by digging around the bowl. At first, Mommy thought I didn't care for it...uh...hello?! It's TUNA!! Of course I liked it! I was "covering it up" so that nobody would try to eat it while I went away.

I camed back about a half hour later and ate the rest :) It's a good thing I covered it up a'cause I saw Mommy standing real near it! If she knew it was there, she might have tried to eat it! What a lip smakin' good time I had! I have to say, Larry is quite the epicurean of the cat world. Just another reason why he's
Purresident Larry
!
Click HERE to go to the most current post.