What is the meaning of this?!?
I have to tell ya... There's nothing more exciting than watching the birdies eat their meals at the bird feeder this time of year. They're practically waiting in line to get there!! A poodie could chitter all day long! Why, just this morning, I have seen a bunch of chickadees and sparrows...oh and a CROW! But the crow didn't eat from the feeder. He just sat on the ground screaming his fool head off.
But, there's something that can dampen a poodie's spirit faster than you can say vacuum. The presence of a squirrel. I just simply cannot tolerate them. They can drive a poodie to O.D. on catnip. Seriously. Look at this...LOOK! Just look at what nerve this squirrel has!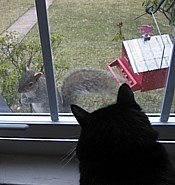 He jumped right up onto the window's ledge and looked in at me! Not only that but when I told him to "scram", he turned and stood up on his hind legs and leaned against the screen!! Fresh!! Fresh I tell ya!! Doesn't this squirrel know who's boss around here?! Doesn't he know that just under this poodie fur there is a panther waiting to get out?!! Oh it's enough to make you want to MRRROW! Ugh...I can't stand it. I gotta go find some nip.
Click HERE to go to the most current post.