What a Wonderful Day!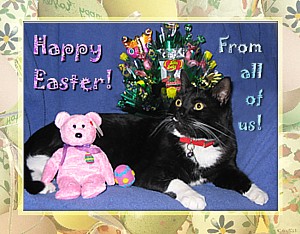 Here I am posing with my Easter Egg cat toy! I had this picture taken a'fore my breakfast this morning so excuse the excited look in my eye. Mommy told me what was on the menu right a'fore she took the picture. I got s'more Figaro Yum-Yum! Look! Look at the big bouquet behind me! It's not real! It's made of little candies and chocolate! Gramma and I gave it to Mommy for Easter. I thought it was nice to pose with...
Dear Poodies, I sure hope you have a wonderful Easter day today! Don't forget there's more to the holiday than chocolate and jelly beans that we can't eat! :)
Did you know today is Patches' (Miss Kitty) Purrthday?! What an exciting day to celebrate a purrthday on! Be sure to wish her a very happy purrthday today! Happy Purrthday Patches, my dear kind poodie! I hopes you get lots of loves, purrs and licks from Tiger and hugs and kisses from your bean Mommy and Aunt! We're sending purrs and licks your way from Mew Jersey!
Click HERE to go to the most current post.