A Big Trip!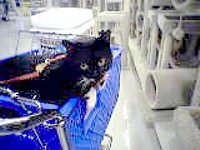 Here I am at the PetSmart well, it's an old picture of me at PetSmart but I wanted to show you how I sit in the cart :) I went in the monster with wheels and drove all the way there while Auntie Deb held me. It was so hot outside! I can't believe how hot it got a'cause I'm so used to the box in the window blowing all that cool air... Anyway, once we got inside the store, it was all cool again. Mommy taked me down all the aisles and I got to look at all the neat things!
We got so many things :) I needed a new filter for my water fountain and my booda loo is in dire need of some good clean litter...that's what that big blue thing is in the picture, the top of the litter jug...I also got s'more birdseed for the birdies outside a'cause they were out of food. Mommy gotted me a new box of stinky goodness a'cause mine was running low. Gosh! I sure did buy lotsa stuff!! Oh! Since Auntie Deb was with us, we gotted my cousin Riley-dog a new toy that squeaks :) I sure hope he likes it!
Mommy said I was such a good boy in the store that she gave me a special treat! She taked me over to the birdies and the mousies and hamsters! I got to see all of Bastya's relatives and the Poi Rats' relatives...There was a yellow Tangie bird there too! It was such a nice treat! There was an aminal there called a chinchilla. It was kinda like a funny looking bunny but not really. Auntie Deb said that she still has her chinchilla! Know what that means?! I have another cousin! Her name is Bonita. Bonita means beautiful in spanish and I'm sure Bonita am a beautiful chinchilla!!
We went over to the doggie aisles and looked at all the toys and clothing. Mommy thought it would be funny to put a hat on me. I didn't. She put a hat on my head that said "Happy Birthday". Well, though I look charming in just about anything, I didn't need to have that hat on...I pushed it off and Mommy was laughing so hard. Sheesh...Then, we went around the corner and sawed that there's a new part of PetSmart called the Banfield Pet Hospital! There's a hospital in there now! And, the nurse at the desk there said I was a very handsome boy. Mommy saw that she had a scale there that I could get on so...that's just what I did! I climbed out of the cart and stood on the scale. Know what? I found out I lost a pound! Wahoo!! I have been on that special weight management iams crunchie food and it finally paid off :) I am now officially 17.3 lbs!
When it was time to pay for all the nice things we got, Mommy put all our items on the counter and the nice girl bean that works there taked it all and put them in bags. Then, she maked a drawer open on her box with buttons and inside of it was green paper that I've seen in Mommy's purse! I was so fascinated that I climbed right over to check it out! The girl bean said it was ok too!! Oh it was such great fun :)
Click HERE to go to the most current post.