I'm sorry Momma...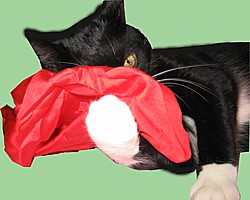 Momma truly...I am very very sorry for putting the bite on you so hard. If it would make it feel better, I will kiss it but it looks like it hurts lots already. I didn't know you were only trying to introduce me to Max in a more comfy way. Honest! It's just that he's awful big and I'm only little. He am looking like a little pony or even a bear! His woofie am so very big and scary sounding. When he woofed at me I couldn't help but hissy at him lots. I'm sorry. Oh so sorry.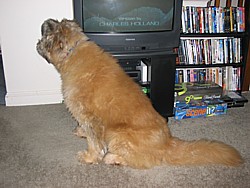 I am a wee poodin compared to Mackie boy. I know he wanted to be friends but I am not happy about how he camed in so fast and tried to sniff my hiney. I sure hope that the swelling goes down so that you can do things with your hand again. I sawed you eat some candies that might make it feel better. Oh Momma I'm so sorry. I promise to purr and do bread-n-butter on you today. In fact, I will come over and do it now.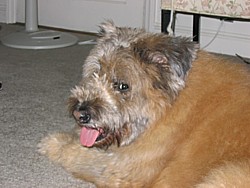 Even though Mackie scares me like crazy, I still think he's nice. Just from a great big distance that's all. He has great big eyes and fluffy wuffy hair. Auntie Wanda am a wonderful bean for saving him from a life of solitude on the streets. He makes everything look really small in our house doesn't he?! I think he needs a mansion to run around in. Perhaps a saddle on his back so that he can let little beans go for rides on him. Yesh. That would be nice.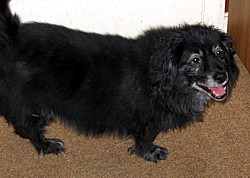 Now Odie on the other paw, she's just a bit bigger than me. She's not so scary a'cause she was real quiet and slow. She am an old lady Momma! She's gonna be 16 this year!! She was saved by Unkie Paulie and Auntie Wanda from a horrible bean that was doing things to her that I've only heard them talk about on Animal Planet's Cop show. Look at those kind eyes. And that great big smile always makes me purr. She camed in and didn't even notice me. I wasn't a'scared of her either. She camed in and went to sleepie in the middle of the floor just like I do with my belly in the air! Know what? I tasted her food again. It's ok a'cause I sawed her tasting mine again too. Odie, may you live long, little chub-chub.
Click HERE to go to the most current post.