A very little bean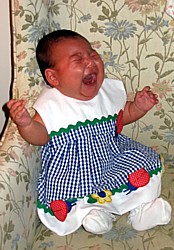 This am a little bean called Alyssa. She am the one that Momma maked a blankie for a few months ago. A'member her? She camed to visit me! The whole day she was such a good girl. But, Krissy, her Mommy, put Alyssa in my flower chair, she started to fuss and cry real loud. It maked my ears go back. I was concerned for her a'cause she was crying so hard so I started to mew real quiet like. Then I walked really slow up to the chair to make sure she was ok. But she was so loud that I just backed off and let her Mommy take care of her...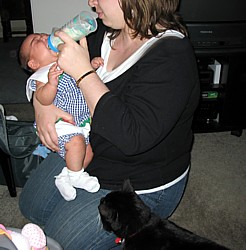 Know what? She was hungry! When her Mommy camed over, she gived her a bottle and she gotted all quiet and happy again. I need to learn that trick! I need to learn how to cry real loud and make my Momma bring me stinky goodness!! This is something I'm gonna have to work on... See me? I'm sayin' "C-c-can I have some Krissy?"
As for Momma, her hand am much better now that she has candy to take. She called them horse pills. But, she's a bean and not a horse so I don't quite understand why she's taking a horse's pill!! Poor Momma, I must've bit her harder than I thought!
Click HERE to go to the most current post.