Happy Halloweenie Everybean and poodin!
I decided to go with both my hat and scarf :)

I can't wait to see all the little beans that come to our house askin' for candy!

Rumor has it, Momma's gonna get a visit from Tigger! I can't wait!! Make sure to go all hidey when your beans have to open the door for the little beans askin' for candy...
you don't wanna get a'scared!
Momma says you'd like to see this picture...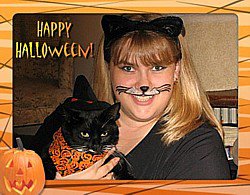 Click HERE to go to the most current post.